Kate Gittins, who has been pivotal in the transformation of Shrewsbury's popular market hall, has been awarded a Lifetime Achievement Award as she is set to retire from her post after 17 years at the helm.
The Facilities Manager has been awarded the accolade by the National Association of British Market Authorities (NABMA) in recognition of her achievements, dedication and service.
The award was presented to Kate in the market hall this week by NABMA Chief Executive, David Preston. She has been honoured with a lifetime membership of NABMA.
When Kate took on the job of Facilities Manager, back in June 2006, the market was "on its knees" with many empty stalls and few customers. But she was one of them and saw its huge potential.
Kate, who had a background in business and working for the BBC, had a vision to transform the place by taking it into a new era, improving the quality and variety of the market's offering and broadening its appeal to both new and existing customers.
The market has since won multiple awards including the prestigious national accolade 'Britain's Favourite Market' in 2018 and 2023, which is voted for by the public as part of NABMA's annual Great British Market Awards. The market now attracts more than 50,000 visitors a month.
"When I took on the market it was on its knees. I'm not sure how much longer it could have survived because very few people were coming in here," said Kate, who retires from her post later this year.
"It has been a hugely enjoyable and rewarding challenge to realise the vision, which we achieved a number of years ago, but the great thing about this place is that it keeps evolving and refreshing itself."
David Preston paid tribute to Kate. He said: "Through her leadership, enthusiasm and passion Kate has transformed this market, after ownership changes and local government reorganisation, to become a destination hub in this Shropshire county town.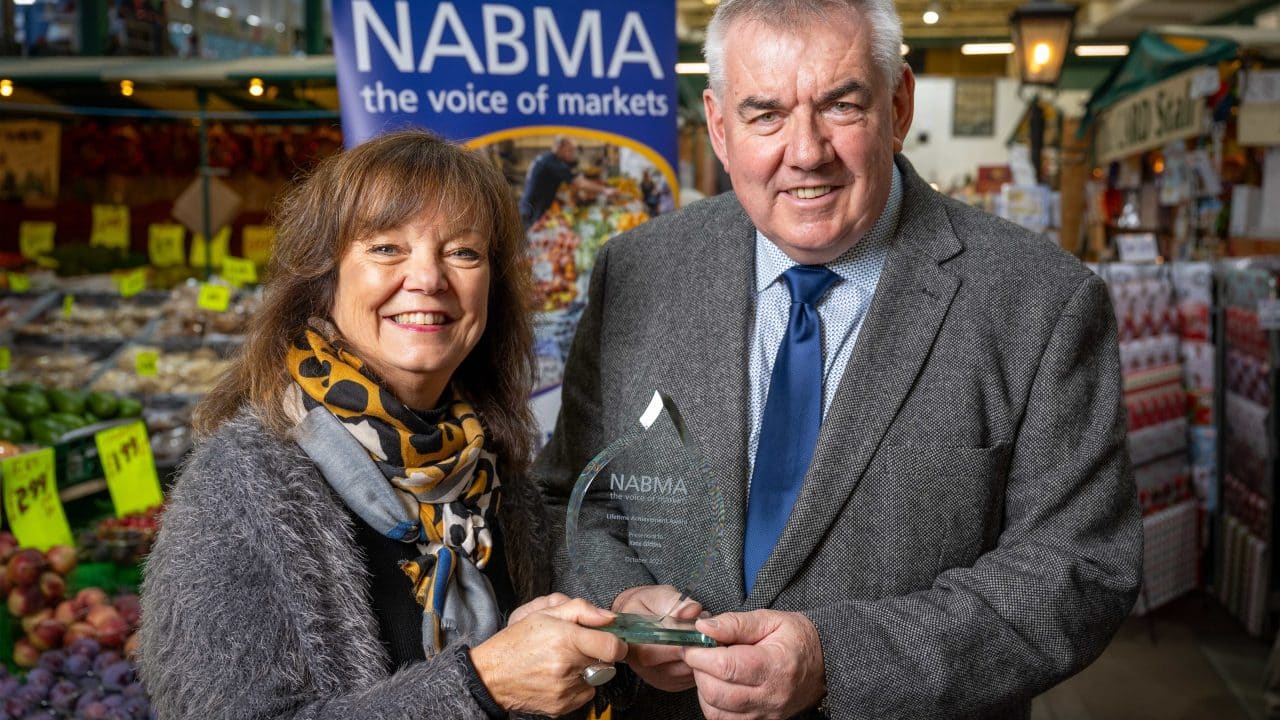 "The journey has been challenging with the market sited on two levels, with dual management and in a 1960's building of architectural interest. Kate has respected market history and tradition but looked to the future and promoted the wider value of markets, demonstrating leadership, a willingness to embrace change and continually seeking to evolve and provide exciting business and start-up opportunities.
"Kate is the face of Shrewsbury Market. She has built relationships and trust with high street partners and traders and delivered an outstanding market that is a county and national leader."
During her 17 years in post, Kate has worked for three different market operators – Workman, JLL and now Shropshire Council which owns and manages the building and operates the permanent market stalls. The canopied stalls are managed by Shrewsbury Town Council.
Customers love Shrewsbury Market Hall for its vibrant mix of traditional and contemporary market stalls selling quality products and services. These range from food and drink retailers to trendy coffee shops, gin and wine bars and an assortment of lifestyle and gift boutiques, artists, designer-makers, vintage sellers and more.