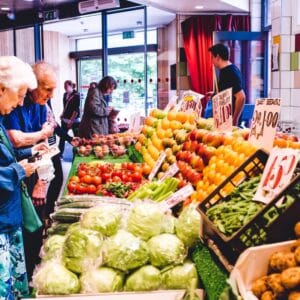 From 1 February 2018 the baton for the management of Harborough Market will be passed from Market Place Management back to Harborough District Council.
During their four-year tenure, which began with overseeing a half million pound redevelopment of the Market Hall, the daily market has gone from strength to strength. Footfall has increased from approximately 22,000 per week in 2013 to 32,000 plus in 2017 and so too has the range of high quality products on offer from an ever-growing pool of fantastic, dedicated traders.
Market Place Chief Executive, Nick Rhodes said:
"We have thoroughly enjoyed our role as operators and caretakers of this award-winning local authority market. We are very proud of how our management team, under the daily direction of Market Manager Sairah Butt, has helped return Harborough Market to the centre of town life. Through hard work and dedication we have increased trading days, added bespoke events and an antique and craft market to the offer. Our programme of community activities has been recognised by the National Association of British Market Authorities and our business development initiatives commended by the local business community."
The operating and management company exceeded financial targets for the Market set by the council each year, an achievement they accredit to the relationships nurtured within the community and with the traders. In addition they delivered a range of marketing activities and increased promotions that raised the profile of the Market, not only in the local area, but also as a tourist destination. As the recipients of three awards in recent years – 'Retail Business of the Year' Leicester Mercury Awards 2016, 'Best Small Indoor Market 2016' National Association of British Market Authorities and 'Independent Retailer of the Year' Niche Awards 2015 – and an economically solidly performing market with stall occupancy rates increasingly above the national average, Market Place Management are confident they are handing back a healthy operation.
Market Place are sad to be bringing their involvement with the market to an end; however they fully recognise that like many councils across England, now more than ever Harborough District Council must be mindful of all expenditure and where possible bring services back in-house in a bid to maximise stretched budgets.
During the last four years Market Place has come to regard Market Harborough as a second home. The job to improve a market is an on-going one and they look forward to seeing the results of the council's efforts in the coming months. Harborough Market is a jewel in the town and Market Place would encourage everyone to visit and support this unique shopping destination.
As everyone knows markets are about people and the company would like to thank the traders, partners and the many visitors for their unwavering support. They would also like to thank Harborough District Council for the opportunity to operate the market and wish the Market every success in the future.