We're part way through Love Your Local Market fortnight & it has been amazing to see how many markets (both in the UK & overseas) have got behind the campaign. 1349 markets from the UK are taking part & 17 countries in total.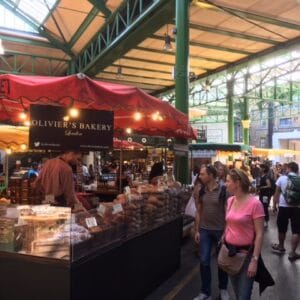 This photo taken today by NABMA CEO Graham Wilson shows Borough Market who are taking part in #LYLM2017 – tweeting from the demo kitchen this week & joining the Thunderclap to name just a couple of things.
Here is just a snapshot of  some of the wonderful things that are being done around the country. This is only a sample so apologies if you are not included. Keep telling us your stories we really want to know about the world's biggest market event:
Portobello are running a video competition in line with NABMA & their winner will be announced at the Portobello Film Festival
Tooting Market offering free coffees to the police for what they do for the community
Freeman Street Market, Grimsby ,were providing free parking for market customers
HRH Prince of Wales & HRH Duchess of Cornwall visited Oxford Covered Market (the day before LYLM started)
Graham Wilson and Ellie Gill have been interviewed on 20 Regional Radio since the start of the campaign. Maria Cotton was on Dearne FM this week & Widnes Markets were on BBC Merseyside
Cambridge Market did a outdoor movie night with Grease showing
Grainger Market in Newcastle had a big Night Market
Cardiff Market run a buggy service to pick up customers across the city
Tooting Market – kids chocolate workshop
Bolton Market – Teenage Market, Fun Day with Birds of Prey, Selfie competition & lots going on
Lots of markets giving out free bags, running things for the kids e.g. Face painting, workshops, sport
Bradford Uni students launch #shopforvictory campaign to promote shopping in the market
Ormskirk Market – free pitches for young traders
Market Harborough – competition to win 6 weeks free trading
This weekend there are lots of LYLM events including – Puppet Parade in Bury St Edmunds, Comic Con in Warrington, Leicester Community Giants Youth Market & many more
Relaunch of Southam Market on Tues 30th May
Morpeth Market – doing recipes each week with produce from different traders
Bradford Oastler Market – Food walk & poetry
#LYLMBrixton – the different markets & BID have all come together under the Brixton BID & are doing lots of events, videos & have even produced #LYLMBrixton Rock (with #LYLMBrixton running right through it!)
There is loads more happening across the UK plus other countries. There was a photo of an advert on the back of a bus in Madrid, dancing in markets in Vigo in Spain, promotions in Greece, Chicago etc. etc.