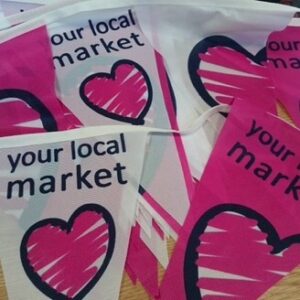 2017 marked the 6th consecutive year of the Love Your Local Market campaign, which continues to be the biggest celebration of markets that has taken place across the country, and events under the Love Your Local Market brand took place in 17 countries across the globe this May. We had another amazing year with around 1300 places taking part over the fortnight. Thanks must go to our sponsors, Gala Tent.
NABMA was so impressed with the quality of the events and initiatives that took place this year, that we wanted to highlight and showcase some of the best things.  Hence, NABMA are delighted to award Special Recognitions (under the themes – youth/trader/operator and partnership working) to the following individuals and organisations for all their hard work during the campaign.
Love Your Local Market Summer 2017 Special Recognitions go to:
Portobello New Youthquake
Bolton Market
Swadlincote Market
Chalton Street Market, Camden
Aylesbury Market
Barnsley Markets
Cardiff Market
LSD Promotions
Roy Dean, That Fudge Guy at the Shambles Market, York
Katie Haskett, Kakes & Bakes, Kirkgate Market, Leeds
LYLM Brixton
Grainger Night Market
Keswick Market
Freeman Street Market, Grimsby
NABMA plan to publish a booklet of all the recipients of this special recognition and showcase this to the sector at the Annual Conference in September.
SaveSave