Graham Wilson OBE, Chief Executive of NABMA (National Association of British Market Authorities) explores this year's Love Your Local Market theme: 'Close to Your Heart'.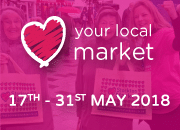 "In a digital age of online shopping, click and collect and self-serve checkouts, markets have an opportunity to remain at the heart of real human interaction and the life blood of our communities, towns and cities.
"That's easy to say against a tide of negative news recently. Last month's gloomy statistics by BBC 5 Live's Wake Up To Money (April 2018) reported that 650 shops and restaurants have closed down this year and the Beast from the East contributed to the heaviest year-on-year drop in footfall since records for the Retail Traffic Index began a year ago.
"More than ever, markets are under pressure to respond to changing customer demands and outside influences. By combining research, innovation, commitment to excellence and professional communication the most successful markets today are focusing on the missing 'experiential' which technology is rapidly eroding from our daily lives and changing and promoting a new offer.
"As people and partnerships become a key tool in economic revival and regeneration, modern markets are re-purposing and responding to local needs and consumer trends.
"The most successful markets are working closely with partner organisation and innovating and reinventing themselves to offer more than shopping. Markets are becoming community hubs, education spaces, food halls and entertainment venues with evening entertainment and licensed dining experiences.
"Markets need to re-engage with consumers in their area and build relationships with the next generation of customers. Partnerships with schools and educational trips where children are being brought into their own towns and communities to learn about shopping and where their food comes from are a great idea.
"Early learning foreign language classes teach the basics of ordering produce face to face and yet in this country, digital automation in every aspect of our daily lives means that opportunities for human communication in retail transactions are becoming a thing of the past. Generations have grown up without the skills and confidence to buy goods on markets and at independent shops.
"In order to retain their place as the beating heart of their community, markets need to be offering experiences that aren't available online. We need to address the older, unhelpful image of markets, full of older people buying cheap goods. There are lots of different kinds of markets catering for a diverse mix of customers. There are more and more artisan, food and drink and high-end retail markets which are becoming the place to socialise by day and evening.
"As consumer habits continue to evolve, markets are attracting new types of traders who offer a range of experiences that can't be accessed online and stall holders themselves are utilising digital technology, focussing on customer Services, branding, display and marketing.
"We need to get the message out to younger consumers from an early age to show how markets offer something for everyone. As well as being a place to build your own business and shopping they are a place to meet and have fun."