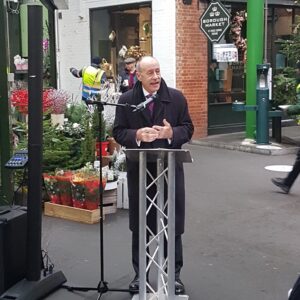 As you know, we have been looking forward to the announcement of the London Markets Board for some time now, and so I am very pleased to be able to tell you that the make-up of the Board was announced by Jules Pipe, GLA Deputy Mayor for Planning, Regeneration and Skills this morning at Borough Market, along with the GLA's "Understanding London's Markets" research report which also contains some Recommendations for the New Board and to which NABMA contributed a huge amount of information. The report can be accessed on the GLA website at https://www.london.gov.uk/what-we-do/regeneration . The link also leads you to an innovative interactive map of London's markets which can also be accessed here. A toolkit will follow in the New Year.
Appointments to the Board have been made on a personal basis, and I am very pleased to be able to tell you that both Graham Wilson and I have been invited onto the Board. And you will see in the list of Board Members below, that a number of NABMA members will sit on the Board, including Helen Evans from New Covent Garden Market Authority, who will co-chair it. Also click here for a press release from the Mayor of London, Sadiq Khan.
The first LMB meeting is planned for February next year.
The GLA also announced that London will host the 10th International Markets Conference, in partnership with Project for Public Spaces (PPS), a New York-based Charity, which will take place in London in June from 6-8th and it is expected that the LMB will play an important role in shaping and designing the conference.
I will share further information as soon as I receive it.
Yours sincerely
Hilary Paxman
Chief Executive
Full list of LMB members are as follows:
Helen Evans – Director of Business Development at New Covent Garden Markets. Helen is also a member of the London Food Board.
Graham Wilson – National Association of British Market Authorities. Graham is the former CEO and legal advisor and has an in-depth knowledge of markets legislation
Hilary Paxman – Chief Executive of NABMA, Hilary has worked in a range of departments in the Civil Service. Her role included working on local economic growth issues and leading on the Government's response to the Select Committee report on markets.
Kay Richardson – Director of 'Space Embrace Community Interest Company'. Kay has also been a market trader and created the WESTRA's Spacehive crowdfunding campaign to relaunch Well Street Market.
John Burton – Urban Space Management. A chartered surveyor, John managed Greenwich Market, Gravesend Heritage Quarter, Swindon Market Hall and West Silvertown retail. He has been involved in regeneration of markets across England and London.
Darren Henaghan – Managing Director of Borough Market. Darren has worked as Director of Environment for the London Borough of Eagling. After training as a civil engineer, he has worked in senior positions at Barking and Dagenham and Ealing councils.
Stuart Horwood – Brixton Traders Association. Stuart is one of the founding directors of the Brixton Market Traders' Federation. Has been a local trader since 1984.
Diane Cunningham – Freelance consultant. Diane co-founded Chatsworth Road market in Hackney where she was a director of the Community Interest Company (CIC) and sat on the Street Markets Advisory Board, a cabinet level group at the London Borough of Hackney
John Shepherds – Managing Director of Partridges of Duke of York Square on the King's Road. John has many years' experience in the world of food
Seamus Adams – Head of Service Parking and Markets at London Borough of Hackney. Seamus is responsible for managing and overseeing all Hackney street markets.
Debbie Carpenter – Market development manager at London Borough of Camden. Debbie previously worked for over 20 years as market manager at Tower Hamlets council.
Ian Dobbs – Head of markets, KERB. Ian has developed and now oversees a portfolio of six London street food markets.
Co-optees:
Cllr Nadia Shah –Camden Councillor. Nadia has been a councillor since 2014. She has been on the council executive, became the first female British Bangladeshi Mayor in 2016/17, and was then elected into the cabinet as cabinet member for Skills Employment and Youth. She is currently the cabinet member for Community Safety. Both of her cabinet positions included markets in her portfolio. She is also involved in managing a family business.
Cllr Rachel Tripp – Newham Councillor. She works at the Health and Care Professions Council which gives her an excellent understanding of regulation, particularly of designing systems that combine accessibility with robust public protection.
Hazel Simmonds – Consultant with MAC-UK, which engages with the UK's most deprived young people to improve their well-being. Hazel was previously Interim Assistant Director at Hampshire County Council for Economic Development and Deputy Director for Neighbourhoods and Regeneration at Hackney where she had responsibility for markets and small businesses.
Advisor to London Markets Board:
Joe Harrison, CEO, National Market Traders Federation (NMTF) Founded in 1899, the NMTF is the only national trade association for market and street traders, events retailers and mobile caterers in the UK. They represent around 22,000 micro-businesses that trade on markets, festivals and shows.
SaveSave
SaveSave
SaveSave