Real Deal is a real deal! It's completely free. Did you know it costs nothing for your market to sign up to a fake-free charter? Patricia Lennon from Real Deal explains how the scheme is funded and how you can get PR mileage out of renewing your commitment.
It will soon be 10 years since NABMA's CEO, Graham Wilson got together with Patricia Lennon to provide valuable input from the market operators' perspective into the development of the Real Deal Charter. The campaign, which is an initiative of the cross-sector partnership The National Markets Group for IP Protection, is the longest running national anti-counterfeiting campaign in the UK focused on supporting markets as fake-free shopping environments.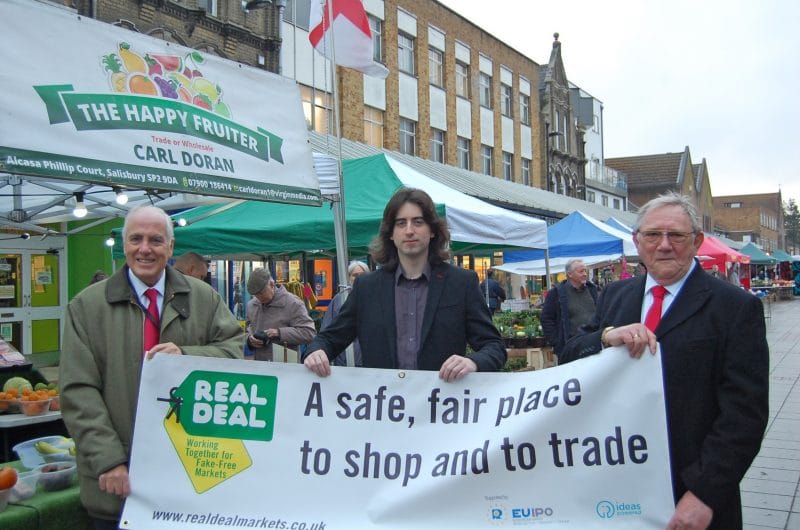 Patricia explains, 'Real Deal was the first national anti-counterfeiting initiative focused specifically on markets and car boot sales, supporting Councils to bring together their Trading Standards officers and market operators to work more closely to keep markets fake-free.'
When illicit traders are allowed to operate, a whole host of problems follow: consumers are ripped off and sold potentially dangerous goods; legitimate traders lose sales and go out of business, damaging the local economy; an atmosphere of criminality and intimidation can become embedded;
there is often a knock-on effect in terms of increased crime in the surrounding area; and the reputation of a market venue as a safe, fair shopping environment is undermined.
The Real Deal initiative is supported by a range of public and private sector organisations from NABMA and the NMTF to the Chartered Trading Standards Institute and government department the IPO. Funding is provided by a range of industry sponsors including trademark and copyright owners as well as organisations representing intellectual property owners. Support from these sponsors means that it is currently free of charge for market operators to sign up to the Real Deal Charter. All that's required is a commitment to keep the market fake-free. In return, participating markets can use the Real Deal logo on signage, trader information boards, website and other promotional materials and it provides excellent photo opportunities and good news stories.
'Becoming a Real Deal market needn't be a one hit wonder,' says Patricia who has a background in communications. 'As market managers come and go, sometimes Councils may be unsure whether they are part of the scheme. I advise them to check the list on the Real Deal website and it may be that there's a 5 or 10-year anniversary coming up for the market to renew the pledge, perhaps the market has moved to a new location and it's time for a new set of photos and a refresh of the story to reassure customers.'
Real Deal is a sponsor of NABMA's Love Your Local Market campaign which runs from 17-31 May. If your market has not yet signed up to the pledge why not use this year's Love Your Local Market campaign to be part of the scheme or celebrate a milestone anniversary or new initiative by refreshing your Real Deal commitment and creating a good news story! It's absolutely free – there's not cost at all. So, what's not to love?