Northern Regional Conference 2022 Markets Delivering Change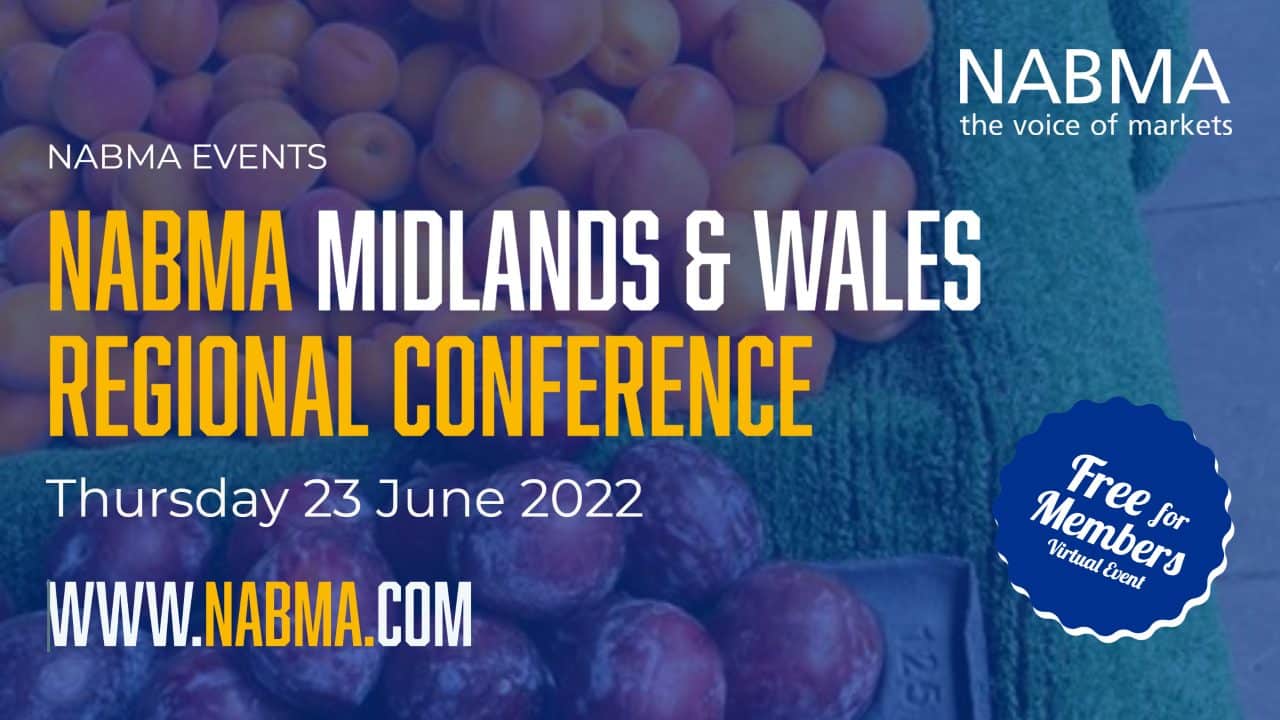 NABMA is pleased to announce details of the second of 3 Regional Zoom Meetings that will have a focus on the midlands and Wales – however attendance at all 3 events will be welcomed.
Each event was very popular last year. They are free and will involve some of your local colleagues, members of the NABMA team and our sponsors. Please support your colleagues and let's talk markets.
Why a Regional Event?
The three Summer Regional Conferences will focus on how markets are emerging from the pandemic, the change agenda alongside a range of topical market issues. The theme of the events is 'Markets Delivering Change'. Each event will have a regional flavour as we want to give people a chance to talk about what is happening locally. We also want to help you build up local contacts. Feel free however to sign up for any, or all the events.
Midlands and Wales Regional Events Details
Date – Thursday 23 June 2022
Time 10:00 until 13:00 (Virtual Event)
Cost – free for members
Meet our Sponsor – Market Place
We are delighted that Market Place have agreed to sponsor this event. Market Place offer a range of market services from Consultancy, Interim Management Solutions and delivering special event markets. They are a one stop service to the Market industry. Contact allan@mpel.co.uk
Conference Programme – 23 June 2022
A welcome from NABMA President Councillor Mick Barker and Market Place, our Event Sponsor
Two years after the start of the pandemic a market team will look at the impact of the pandemic, the changes in their high street and what help, if any, their market activities have been given. How does this market view its future?
A private sector market company looks at the impact of the pandemic in terms of market management, operational changes and event planning. What are the options that may be available in an era of change for market history and tradition?
The pandemic has seen changes in planning legislation, the encouragement of flexibility in the use of public realm, and freedoms to extend market activities. NABMA looks at the implications and impact on markets and local strategies arising from these government announcements.
How is the role of the traditional manager changing? What is the interaction between place and market management? What is the skill set needed to deliver professional market operations? We ask the questions and look at how NABMA can further support market managers, teams and their professional development.
And Finally…
The date for the final Regional Conference:
London and the South Regional Conference – Thursday 28 July 2022
We hope you we able to join us at one, or all of our Regional Summer events. Although a challenging time for markets there is also great optimism about their future and the many roles that markets can play in helping the recovery of high streets, towns and cities and local communities